Connor turned 5 last Friday. He decided that he wanted to have a horse/ Lego cake for his party.
How the heck do you do that?
Make Your Own Candy Legos
1. You'll need some Wilton Dark Green Candy Melts, 12-Ounce
(or whatever colors you want…I did red, yellow and green this time)
2. Put about 1/2 the bag into a zipper bag (do not close it)
3. Put the bag into the microwave for 30 seconds. Flip the bag over and do 30 more seconds. Then you'll probably have to do about 15 more seconds.
4. Squish the melted candy in the bag to make sure it all melted.
5. Squeeze all the candy into one corner and snip a little bit off that corner.
6. Squeeze the melted candy into the Lego Minifigure Ice Tray and Ice Brick Tray molds
7. Once they're all filled, clean up the top so there is no spill over and firmly set the mold on the counter a couple of times to get the air bubbles out.
8. Place the mold in the freezer for 15 minutes.
9. Take out the mold and pop them out. (If you have trouble getting them out, spray Pam on the mold next round.)
10. Place them around the outside of the cake.
I once again used my little secret for making edible images (take a picture to Walmart and have them print it on a sugar sheet for $6.50).
And wah-lah…you have an edible horse/ Lego cake!
Check out the other blogs participating in the Friday Kids in the Kitchen meme by clicking on the image.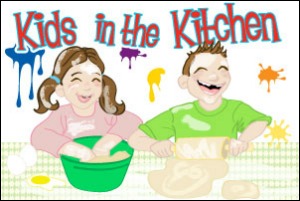 Have you used candy melts before? The possibilities are limitless!
Disclaimer: This site is an Amazon affiliate.